Insightin Health Promotes Distinguished Client Experience Specialist Marcia Kepler to Chief Experience Officer
Leading Health Tech Firm Continues to Enhance Best-in-Class Leadership Team
Baltimore, MD – April 21, 2020 – Insightin Health, provider of Artificial Intelligence driven "Next Best Action" for preventative care management, announced the promotion of Marcia Kepler to Chief Experience Officer (CXO), effective as of February 2020. Kepler is a founding member of the Insightin team, beginning her tenure back in January 2016 as the EVP of Learning & Client Experience/Training & Delivery, where she worked closely with Insightin Health platform users in addition to spearheading all client training and implementation deliveries.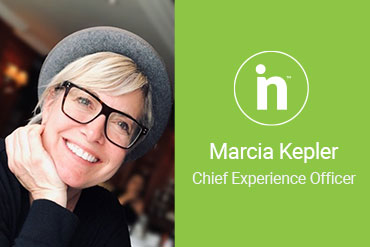 In her new role as CXO, Kepler oversees Insightin's overall Customer Experience Delivery. In doing such, she works closely with Insightin clients and internal product teams to ensure Insightin standards for experience excellency are exceeded. For Kepler, it's about the Insightin tag line: Simple. Easy. Effective. "We offer a tool that no one else can match in terms of depth and breadth of data that can be captured and analyzed, resulting in actionable next steps for plans and providers – all while providing a superior, more personalized interaction with their members," says Kepler.
Kepler brings with her more than 15 years of experience working directly with clients to solve problems around technology training and instructional design. She has played an integral role on multiple patient engagement platforms by delivering learning courses for physicians and nurses. Having spent a considerable amount of time in the hospitality industry as well as consulting, customer experience has become a part of Kepler's DNA. She intrinsically understands the importance of the client's journey and loves finding ways to help others leverage their talents to improve the experience of end-users.
"At Insightin Health, I most enjoy working with such a dynamic group of great minds that are changing the healthcare industry," states Kepler. "To us, our customer's experience during and after they work with us is as important as the product itself."
"We are excited to create this strategic leadership position and have Marcia leading it to deliver best-in-class customer experience for our clients." says Insightin's CEO & Founder Enam Noor. "She will work with our clients and industry analysts to develop the best customer experience that we strive to achieve."
About Insightin Health
Insightin Health is the industry's only single platform which provides a complete personalized member engagement for each steps of the health care journey. The core platform combines medical, clinical, cognitive, and social determinants of health to recommend the Next Best Action (NBA) for each person. Health plans can improve quality measurements, gain higher member satisfaction, and increase member retention. The simple integration and easy to use platform creates an effective shift towards healthier population for the health plans. For more information, visit https://www.insightinhealth.com.